Dec 16, 2015

The Fraunhofer Institute for Organic Electronics, Electron Beam and Plasma Technology FEP and the Fraunhofer Institute for Silicon Technology ISIT have successfully developed and tested flexible electrochemical biosensors on metallized film substrates. The Fraunhofer FEP has the technology to provide polymer films with a thin metal layer, which is based on a roll-to-roll process. A high degree of uniformity of the layer's thickness and a lack of defects represent particular technological challenges in this manufacturing process.
The growing market for wearable devices requires a high number of small, light-weight and high capacity sensors for different applications in sport, medicine or at work. Especially useful are so-called "wearables" such as functional wristbands which provide practical assistance while barely being felt. These devices can monitor body function and provide valuable information. In addition, the electronics should adhere flexibly to the arm.
Fraunhofer researchers have now succeeded in taking a crucial step on the way to the production of such forward-looking products. Within the Fraunhofer ISIT the business fields "Medical Sensor Systems " and "Wearables and Printed Electronics" cooperate in investigating how silicon-based sensor technologies can transfer to flexible modules and integrate into body-shape sensor systems. The Fraunhofer FEP has considerably advanced this development by providing metallized film substrates, with the Fraunhofer ISIT developing a flexible electrochemical sensor with which good results could be attained. The sensor measures 8 x 10 mm² and contains an array of electrodes for biological immunological tests. The special feature: the sensor's thickness is only approximately one tenth of a millimeter as it was produced entirely on a polymer film which had previously been coated at the Fraunhofer FEP. The fundamental principle for the production of flexible sensors are thin layers in the submicrometer range. The researchers at the Fraunhofer FEP have a lot of experience in coating polymer filmss without defects and with a high degree of uniformity in highly productive roll-to-roll processes.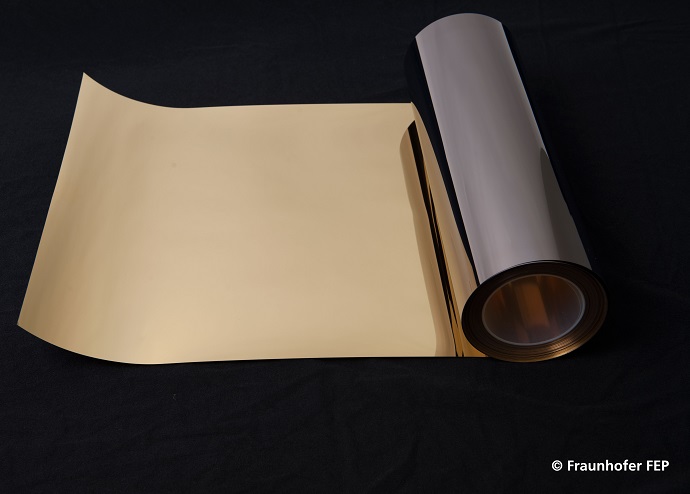 Polymer film which has been coated with metal in the roll-to-roll process at Fraunhofer FEP
© Fraunhofer FEP
Christopher Beale, who developed the sensor as part of his Master's thesis at the Fraunhofer ISIT, is pleased: "Our flexible electrochemical biochip shows similar results in a first test series when compared to our silicon chip."
"Polymer films are especially well suited for such applications as they are light weight, flexible and biocompatible," adds Dr. Matthias Fahland. "The results are encouraging even if some hurdles must be overcome still in order for such biosensors to be produced affordably in roll-to-roll processes. We at the Fraunhofer FEP with our processes and facilities are ideally positioned for further research in this promising field. "
Both institutes will work together more closely in the future in order to develop tailor made flexible electronics for the products of the future together with customers from industry. There are for example developments to integrate polymer films-based lactate sensors in wristbands. Thus it would be possible to monitor the wearer's fatigue during exercise through correlated lactate concentration in sweat.
About Fraunhofer FEP
The Fraunhofer Institute for Organic Electronics, Electron Beam and Plasma Technology FEP works on innovative solutions in the fields of vacuum coating, surface treatment as well as organic semiconductors. The core competences electron beam technology, sputtering and plasma-activated deposition, high-rate PECVD as well as technologies for the organic electronics and IC/system design provide a basis for these activities.
Thus, Fraunhofer FEP offers a wide range of possibilities for research, development and pilot production, especially for the processing, sterilization, structuring and refining of surfaces as well as OLED microdisplays, organic and inorganic sensors, optical filters and flexible OLED lighting.
Our aim is to seize the innovation potential of the electron beam, plasma technology and organic electronics for new production processes and devices and to make it available for our customers. COMEDD (Center for Organics, Materials and Electronic Devices Dresden) with all known activities in organic electronics is now acting as a new business unit at Fraunhofer FEP, Dresden, Germany.
About Fraunhofer ISIT
Fraunhofer ISIT in Itzehoe is one of Europe's most modern research facilities for microelectronics and microsystems technology. The heart of the institute are the cleanroom facilities, big enough to operate not only research projects but also to produce the developed microchips in industrial scale. 190 scientists develop at ISIT in close cooperation with industrial partners power electronic components and microsystems, with fine
movable structures for sensors (pressure, movement, biochemical analysis, etc.) and actuators (valves, scanners, micromirrors etc.) including the necessary electronics. These miniaturized components are used in medicine, in the environment - and traffic engineering, communication technology, automotive industry and mechanical engineering.