OBERKOCHEN/Germany, 02/09/2014.

The ZEISS lenses Loxia 2/35 and Loxia 2/50 are the first members of a new family of manual focus lenses for the E-mount full frame. They are optimized for digital sensors and electronic viewfinders and feature a mechanical aperture setting and the mechanical deactivation of the click stop (de-click) for ambitious videography. But these are just a few of the highlights. The lenses will be presented to the public at ZEISS's booth (hall 2.2, C-018) at photokina in Cologne/Germany from September 16 to 21, 2014.

"Ever since the Sony Alpha 7/7r/7s helped compact system cameras break through to the full frame, there has been a growing desire for a 'digital manual focus' experience that combines the best of both worlds. The Loxia 2/35 and Loxia 2/50 are the first members of a new family of manual focus lenses for the E-mount full frame. By entering this field, ZEISS not only wants to meet this desire, but exceed it," said Christophe Casenave, Product Manager at ZEISS Camera Lenses.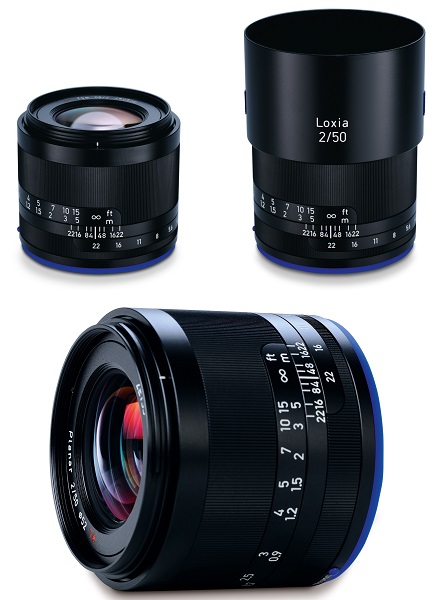 With an angular field of around 47 degrees, the Loxia 2/50 takes the perspective of the human eye.

Freedom of composition in photography was the guiding principle in developing the ZEISS Loxia 2/35 and ZEISS Loxia 2/50. An electronic interface transmits lens data (EXIF), but it also recognizes focus movements and, if desired, activates the camera's magnifier function. This supports the possibilities of modern compact camera systems with an electronic viewfinder. Furthermore, the Loxia lenses allow for precise manual focusing as well as a mechanical setting of the aperture (aperture priority). This traditional way of working expresses one's personal photo lifestyle, opening up surprising creative possibilities to compose the image that go beyond all automation.

It is not for nothing that compact camera systems are one of the most interesting developments on the photography market today. Many photographers also appreciate the combination of traditional principles of handling and operation with the most modern technology.

"If I had to describe Loxia lenses in just one sentence," says Casenave, "I would say, 'tradition meets modernity'. These lenses have been designed for photographers who enjoy shooting spontaneous scenes, without giving away the work of composing the image to the camera."

Yet another highlight – the mechanical deactivation of aperture click stops (de-click), thus creating progressive and noiseless aperture settings– makes this new lens family a tool that provides a high degree of creative potential, not only for photographers but also for ambitious videographers. Thanks to their precise manual focusing, the Loxia 2/35 and Loxia 2/50 are also suitable for professional video productions.

The Loxia lens family has been specially optimized for digital sensors. The optical design of the Loxia 2/35 is based on a Biogon and consists of nine lens elements in six groups. With a full-frame focal length of a moderate wide angle, this lens is particularly well suited for nature, landscape and architectural photography. Its creative potential also comes to the fore thanks to its low minimum object distance of 0.3 meters, which allows close-ups with an unusual perspective.

The design of the Loxia 2/50 is based on a Planar and has six lens elements in four groups. As a 'classic' standard lens with a full-frame focal length of 50 millimeters, it offers photographers a field of view that corresponds to natural eyesight. The Loxia 2/50 is ideally suited for a wide range of situations, from travel photography, family photography and photojournalism to portraiture – and with a minimum working distance of 0.37 meters it is suitable for close-ups, too. The Loxia 2/50 is an uncomplicated but at the same time high-quality standard lens that photographers can keep on their camera continuously, therefore allowing them to react flexibly to a wide range of everyday situations.

Both Loxia lenses have a high speed of f/2, which expands the creative possibilities even more. Two examples are the effective isolation of motifs with a low depth of field or free-handed photography, even with poor lighting conditions.

The Loxia lens range intentionally eschews autofocus. This makes them compact and ideal for travel and street photography. Photographers who work in these fields often do not like to be recognized right away as professionals. The Loxia lenses offer a high resolution across the entire image field and a harmonious bokeh in the background, especially at the maximal aperture opening of f/2. The Loxia family stands out for its superb mechanical quality. The smooth focus operation with a large focus rotation angle of approximately 180 degrees allows for the finest variations in focusing. The filter diameter is a consistent M52 across the entire lens family. The robust barrel is made completely of metal so that it can withstand the rough everyday situations that professional photographers face and ensuring a long product life. In addition, the lenses have a special weather sealing at the lens mount to prevent spray water from getting between the camera and the lens.

Product manager Christophe Casenave summarizes the benefits: "Exceptional optical performance combined with compact, modern and unobtrusive design allows the photographer to disappear into the scenery and thus get the most natural attitudes – ideal for street and reportage photography. Through manual focusing, the physical aperture ring and a noiseless aperture position, photojournalists will be able to use the lenses for semi-professional video shoots."

The Loxia 2/50 will be available worldwide starting October 2014 and the Loxia 2/35 from the end of the fourth quarter of 2014. The recommended retail price of the Loxia 2/35 will be EUR 965.55* (US$ 1,299.00)* and that of the Loxia 2/50 will be EUR 713.45* (US$ 949.00)*.