Leuven, 16 March 2018 --- Xenics, Europe's leading developer and manufacturer of advanced infrared detectors, cameras and customized imaging solutions from the SWIR to the LWIR realm, is pleased to announce a significant improvement in the quality of its detectors and resulting cameras. 
 
With the goal of better serving its customers, Xenics has recently increased production capabilities, added extra clean room space, reviewed processing techniques and modernized equipment. First evidence of this improved and upgraded manufacturing process is the significant reduction of dark current in our standard InGaAs SWIR detectors.
 
The detectors with improved dark current performance will first be introduced in the Bobcat 640 cameras and Cheetah TE3 camera. Later on these detectors will find their way into all InGaAs SWIR cameras, including the vSWIR (visible enhanced short-wave infrared) models with extended response into the visible range.
 
Most customers, especially the ones working on demanding applications, will benefit from a lower dark current: these detectors and cameras will exhibit
a better signal-to-noise ratio;
a larger dynamic range;
a lower noise in the shot noise dominant region.
No adjustments to the prices of the cameras will be made as a result of this development, strengthening the company's commitment to provide quality, satisfactory products at competitive prices.

Dark current improvement for Bobcat 640: old (orange) vs new (blue) typical data. The measurements have been done for various sensor temperatures ranging from 288 K to 303 K, and with a photodiode reverse bias of 150 mV. A factor four improvement has been achieved.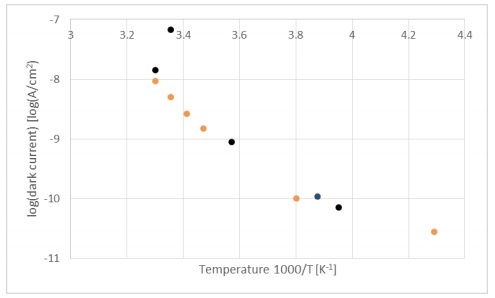 Dark current comparison of Xenics Bobcat and Cheetah TE3 (both with improved detectors, in orange) and the main competitors (black) – typical data. For a given temperature range, the Xenics detectors with thermo‐electrical cooling offer best‐in‐class dark current performance. Temperatures shown here range from 303 K down to 233 K.  
More at: www.xenics.com.