May 09, 2018

QVI® (Quality Vision International, www.qvii.com) is proud to announce the newest precision optical instruments for measuring shafts and other cylindrical parts – QVI TurnCheck™.
QVI TurnCheck systems address the major sources of measurement uncertainty found in shaft measurement today, by focusing on advanced optics, thermal stability, and ease of use.
TurnCheck optics have been designed and manufactured by QVI – the world's largest vision metrology company, with over 70 years' experience in optical design. The illumination system found in TurnCheck systems produces highly collimated light with a constant wavelength, eliminating the wrap-around effect on turned parts. The receiving optics are fully telecentric with each element designed to eliminate distortion. The result is a crisp, uniformly magnified image across the entire field of view, with no edge effects or exclusion zones.
TurnCheck systems are designed to deliver accurate measurements in shop floor conditions where vibration and temperature variation are common. Careful consideration was taken in selecting materials to allow the design of TurnCheck systems to mitigate the effects of thermal variation found in shop floor environments. TurnCheck system software is intuitive and intelligent. There is no need to adjust lighting, focus, or image tools – the system optimizes these features automatically. Simple controls, easy loading and unloading, and intelligent tools let the operator focus on what they want to measure, rather than how they should be measuring it, allowing for fast setup time without the need for extensive operator training.
Designed and manufactured in the United States, TurnCheck systems are offered in three different model ranges to accommodate a range of parts, up to 1200 mm in length.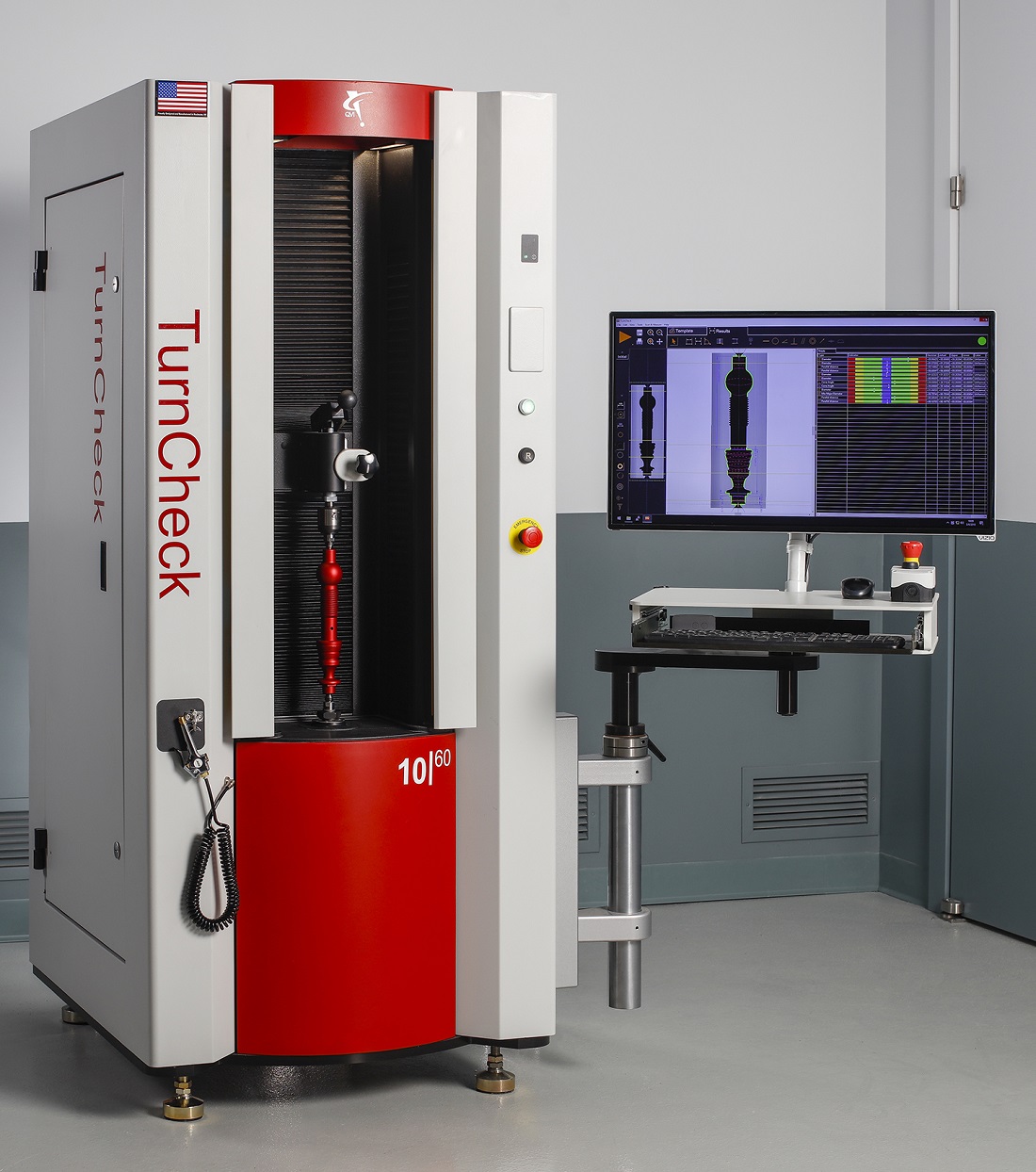 Don't miss an opportunity to see the new QVI TurnCheck systems in person at a regional tech tour, as well as industry trade shows throughout the summer, leading up to IMTS 2018 in Chicago in September. Learn more at www.qvii.com/TurnCheck.
About QVI
QVI (Quality Vision International, www.qvii.com) designs and builds a complete line of dimensional measuring machines that combine proprietary optical, laser, and contact sensors for precision measurement of manufactured components and assemblies. More than 65,000 QVI systems are used by manufacturers in over 75 countries to measure and inspect their products for quality and process control.
Founded in 1945, QVI has grown to become the world leader in optical, electronic and software technologies for vision and multisensor measuring systems. QVI brands include OGP SmartScope®, VIEW, RAM, CCP, KOTEM, Itaca and ShapeGrabber. Headquartered in Rochester, New York, USA, QVI maintains corporate facilities in Dayton, Phoenix, Ottawa, Frankfurt, Turin, Budapest, Singapore, Shanghai, Beijing, Xi'an, Suzhou, Bangalore and Tokyo.