May 27, 2014

TOKYO—Toshiba has announced that it will expand its line-up of image recognition processors in the TMPV750 series with the launch of TMPV7502XBG. The new product offers a small package (11mm × 11mm) and low power consumption (Typ. 0.6W), and is best suited for use in small-size camera modules. Sample shipments start today, with mass production scheduled to start in November, 2014.
The new product can be applied to driver assistance systems that recognize vehicles and pedestrians in images captured by a vehicle's rear view monitor and electronic mirror. It can also handle intelligent camera functions in diverse Smart Community related applications, including alarm systems using surveillance cameras on roads and at intersections, and image-based air-conditioning and lighting management systems in buildings.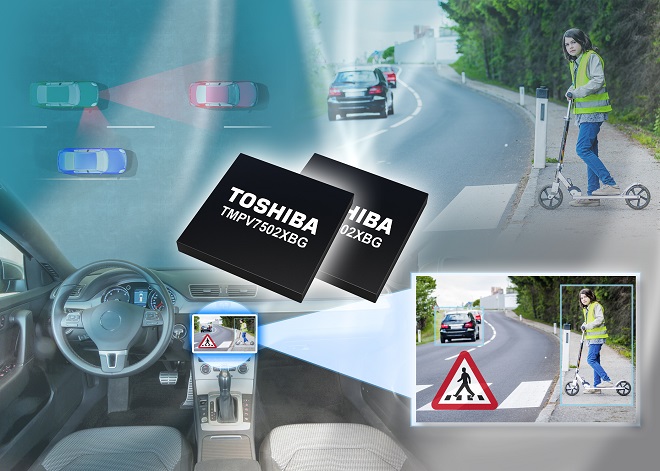 Realizes both fast, high-performance image recognition and low power consumption for small-size camera module
Application in small camera modules is realized by optimizing circuit configurations and minimizing the video input interface to 1 channel, ensuring suitability for monocular use.This secures advanced image recognition performance—the simultaneous detection of multiple objects, vehicles and people—with low power consumption (Typ. 0.6W), in a package downsized to only 11mm × 11mm (P-LFBGA 324 pins, 0.5mm ball pitch). 
Performance is further enhanced by incorporation of CoHOG detection technology, as hardware, allowing TMPV7502XBG to use image features to realize faster detection with higher accuracy. The processor is also equipped with image processing accelerators robust to lighting changes and small deformations, characteristics that support recognition of people, which also adds to image recognition performance.
More information at:
http://www.semicon.toshiba.co.jp/eng/product/new_products/assp/1342683_37662.html