May 29, 2013
SMARTEK Vision extends its Giganetix series, consisting of 32 camera types with the addition of a new variant, the Giganetix S90. In this variant the optical axis and the cable socket are angled at 90° to each other to create more space for the camera and lens in confined industrial machinery. Based on the world-proven electronics of the standard series, all camera types are available in the new S90 format at amazingly good value and with no minimum order quantity.
In just 5 weeks, the 90 degree angled housing of the Giganetix S90 series has been developed, evaluated, produced and delivered to the customers. Meeting all the requirements, the mechanical integration was easily accomplished and thanks to the unchanged hardware and software interfaces, the customers could use their previously developed image processing components without change or re-design.
Today, all Giganetix cameras are available in this S90 version with no minimum order quantity, short delivery times and as expected for SMARTEK Vision, excellent price-ratio-performance.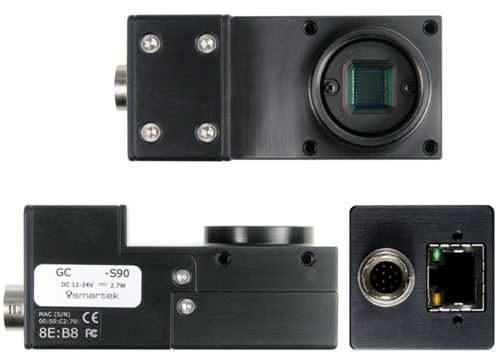 Product features:
- 90° angled housing with ~13 mm distance between sensor level and camera rear wall
- Wide selection of high-end CCD/CMOS sensors from Aptina, Sony and Truesense Imaging
- Compact footprint 35x35x75 mm
- Max. 65 MHz pixel clock sampling
- Exposure time programmable from 10µs to 10s
- Trigger latency of just ~2µs, jitter <0.5µs
- Partial scan and area of interest features
- Horizontal and vertical binning
- Minimal thermal noise, low power consumption
- Excellent shock and vibration resistance
- Precise mount to image sensor alignment
- Hardware and software fully compliant with GigE Vision®, Gen<i>Cam® and all major image processing libraries
- Industrial standard connectors: Hirose 12 pin and RJ45 with screw lock
- Ethernet cables allow for operating distances up to 100m
- Plug & Play, attach the camera to your Ethernet network and start working
- Anodized aluminum housing
- Standard C-Mount lens adapter
- Sealed image sensor
- Opto-isolated inputs and outputs
About FRAMOS:
FRAMOS has been established as an innovative and sustainable partner in the area of industrial image processing for the last 30 years. Together with our comprehensive portfolio of imaging components including; sensors, companion chips, cameras, optics, lightings and various accessories, we support our customers with a real variety of development services, ranging from short-term solutions for complex demands up to large scale marketable developments of complete systems. We find and develop solutions for the key challenges in image processing in order that our customers can focus on increasing their competitive advantage.