28.03.2018

InnoLas Photonics introduced a novel type of industrial ultrashort pulse laser. The all fiber based USP laser delivers up to 8 W average power at 1950 nm and is designed for demanding 24 / 7 applications. Laser head and power supply are integrated in a rugged, compact all-in- one block of strengthened, machined aluminum for highest stability (512 x 360 x 185 mm³). The new design cuts down system costs significantly without any trade-offs in quality or laser lifetime. 48 VDC operating voltage and InnoLas Photonics´ field proven Laser Control Interface enable a simple and easy integration of the system. The new 2 μm USP laser is available with pulse widths of either 500 fs or 4 ps (long pulse version LP). Both versions have up to 4 μJ pulse energy at repetition rates from single shot to 2500 kHz. An integrated pulse picker is included for fast pulse and power control.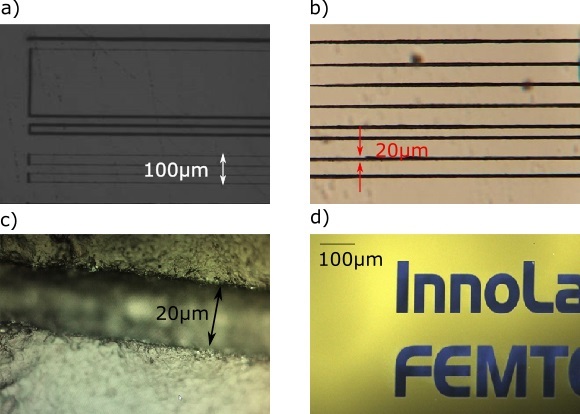 Picture description:

FEMTO 1950-8- T-2500 / FEMTO 1950-8- T-2500- LP (Long Pulse)
a) modification inside silicon, 500µm sub-surface
b) modification inside borosilicate glass with subsequent selective etching
c) calf liver ablation
d) ablation of a <1µm gold layer on a silicon substrate
More Information:
http://www.innolas-photonics.com/Products/Ultra-Short-Pulse.html?s=A6F3E62110667C70E570783E5DF5747E50251AF0
The FEMTO 1950-8- T-2500 and FEMTO 1950-8- T-2500- LP (Long Pulse) lasers are used for novel kinds of applications which require wavelengths of 2 μm.
These are e. g.:
* 3D structuring inside silicon, with or without subsequent selective etching for MEMS, SEMI or Silicon Photonics markets
* 3D structuring of Glass, especially borosilicate-, soda lime glass and fused silica
with a subsequent selective etching processes for microfluidic markets
* Medical surgery, e.g. tissue ablation
* Ablation of thin layers, e.g. for SEMI markets
* µ-Gratings in glass and silicon, holographic effects, e.g. for MEMS
* Resonant ablation of polymeres and plastics, holograms, e. g. for security
markets
* OPV,PV and OLED structuring and processing
* Spectroscopy and gas sensing