2018-03-28

DJI, the world's leader in civilian drones and aerial imaging technology, unveiled new technology and tools to customize its enterprise drone platforms for specialized tasks such as infrastructure inspection, precision agriculture, firefighting and search and rescue.
The new Zenmuse XT2 thermal imaging camera, created in partnership with FLIR Systems, is a critical tool for drone operators to capture heat signatures invisible to the naked eye. Its side-by-side visual and thermal imaging sensors provide unparalleled data capture and situational awareness during emergency services, disaster recovery and industrial inspection uses. DJI's powerful new Payload Software Development Kit (SDK) allows innovative drone startups, developers, and sensor and device manufacturers to easily integrate custom cameras, sensors and other types of payloads onto DJI drones, unlocking the true potential of drone technology for businesses, governments and researchers around the world.
"The Zenmuse XT2 continues our longstanding partnership with FLIR to create the most powerful thermal imaging solution available on a drone today. This is a significant advancement for public safety professionals who are using drones to save lives and creating new industrial applications across different verticals," said Jan Gasparic, Head of Enterprise Partnerships at DJI. "Our new Payload SDK makes it possible for any manufacturer to create a payload specific to their customers' needs that will work seamlessly with DJI's aircraft. We believe these two advances will not only strengthen DJI's leadership in the commercial drone industry, but will also provide a powerful, flexible and standardized platform which customers from different industries can build upon."
Intelligent Thermal Data for Critical Missions
The Zenmuse XT2 is a powerful thermal imaging camera that transforms data into actionable insights. Its gimbal-stabilized, dual-sensor design combines an advanced FLIR® radiometric thermal imager and a 4K visual camera to allow drone operators to view thermal and visual data while in flight, delivering an unmatched level of versatility and image detail for high-performance uses from industrial inspections to public safety operations.
Professional drone operators can use on-board intelligent features like FLIR MSX® technology to combine visual and temperature data into one image, allowing operators to easily identify objects of concern. DJI's unique Spotlight Pro features let operators focus on safe flight operations and data interpretation while the camera automatically tracks an object through two intelligent flight modes: QuickTrack centers the camera on the selected area while HeatTrack automatically tracks the hottest object in view. The Temp Alarm feature interprets thermal data in real-time and alerts drone operators when an object's temperature exceeds critical thresholds.
"We are excited to continue our collaboration with DJI to develop sensors for their industry leading drone platforms," said Frank Pennisi, President of the Industrial Business Unit at FLIR Systems. "The Zenmuse XT2 uses a radiometric thermal imaging camera core to capture accurate temperature data for every pixel, ensuring that drone operators have access to as much information as possible during critical and often lifesaving missions."
The Zenmuse XT2 is compatible with DJI's Matrice 200 Series and Matrice 600 Pro enterprise drones. It will be first available for the DJI Pilot mobile app for Android and later for the DJI XT Pro mobile app for iOS devices. Its rugged design and IP44 ingress protection rating gives it versatility to be flown in a wide variety of conditions including rain, snow, smoke and fog. With a 12-megapixel visual camera, it is available in two thermal sensor resolutions of 640 x 512 or 336 x 256, with 9mm, 13mm, 19mm, and 25mm lenses.
For more information on the Zenmuse XT2, please visit: dji.com/zenmuse-xt2.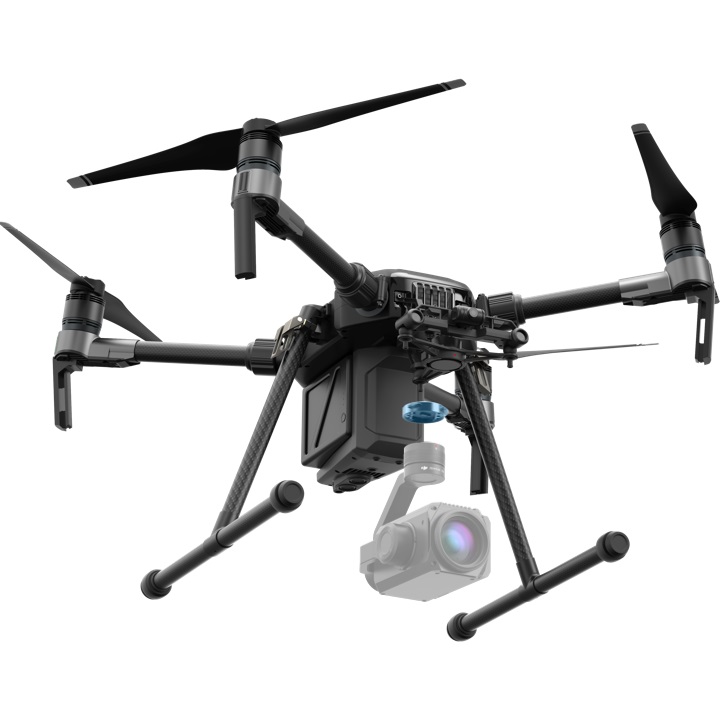 The Future of Commercial Drone Customization
DJI's new Payload SDK enables non-DJI cameras, sensors, and payloads like air-to-ground communications tools and devices to be mounted and integrated directly into DJI's Matrice 200 Series drones. By opening this layer of DJI's core technology to the commercial drone ecosystem, any manufacturer, developer or researcher can create a drone that is customized for a specific purpose or industry.
DJI is reducing several layers of complexity with the introduction of DJI Skyport, a gimbal port adapter that enables an external payload to be seamlessly integrated to DJI drones. With the DJI Skyport gimbal port adapter, circuit board and access to APIs, an external sensor or payload can be easily installed and controlled just as if it were a DJI Zenmuse camera. The set-up will connect directly to the drone's power supply, eliminating the need for external cables and batteries. The Payload SDK also allows access to the drone's powerful data communications system, providing operators the ability to communicate directly with the sensor and receive its data in real time.
"At SLANTRANGE, our mission is to deliver valuable new information to farmers and agronomists that will enable them to produce more with less through novel applications of airborne remote sensing and analytics," said Michael Ritter, CEO at SLANTRANGE. "Until now, we've had to attach our sensors to DJI drones with external power cables or batteries, which added complexity and more importantly, increased weight that reduced flight time. The user also had no in-flight sensor information. With DJI's new Payload SDK and Skyport, our just-announced 3PX provides customers with a ready-to-fly sensor and a complete understanding of its status directly on the drone's flight control screen. Combined with our patented technology for aerial crop measurement, this ensures that every flight produces accurate and trusted data. For the end user, that means easier, more streamlined workflows and substantially lower operational costs."
For more information on the Payload SDK and DJI's full suite of developer solutions, visit: developer.dji.com/payload-sdk.
Availability
The Zenmuse XT2 camera is available today for purchase through authorized DJI Enterprise dealers worldwide. To find a local Enterprise dealer, visit: www.dji.com/where-to-buy. DJI will offer access to its Payload SDK through its Developer portal at developer.dji.com/payload-sdk.