12.06.2017

The system provides a unique, "Eye in the Sky", overall situational awareness of "on-the- ground" intelligence data, and enables a large number of users to receive real-time, high-resolution imagery and even go "back-in- time" Elbit Systems will reveal at the 2017 Paris Air Show in Le Bourget, taking place this week, an innovative wide area persistent surveillance solution – SkEye WAPS.
Visual Intelligence (VISINT) gathering was traditionally available in a designated video format. The user could see and record only the area the Electro Optic (EO) payload was viewing, while missing the surrounding area. SkEye WAPS changes this paradigm by persistently observing and recording a wider area than ever before and offering the system's users the ability to select real-time or "back in time" video footage within the covered area without being limited to a single segment. Up to ten Regions of Interest (ROI) can be thoroughly analyzed simultaneously using video footage from the recent and previous missions.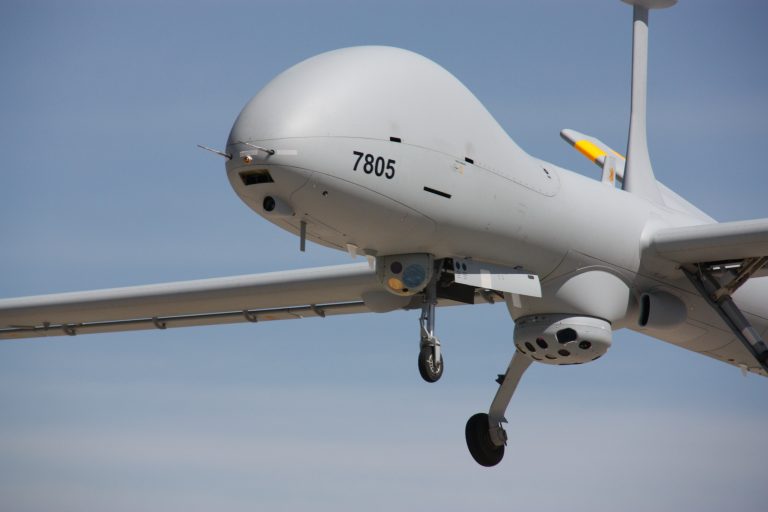 SkEye WAPS on-board Hermes 900
Developed specifically to address requirements raised by defense and law enforcement agencies, responding to natural disaster recovery events, terrorism and homeland security threats, SkEye WAPS comprises advanced capabilities in the field of imagery intelligence gathering, providing a complete high-resolution picture and up to 80 square kilometer coverage of the Area of Interest (AOI) to a large number of users.
SkEye WAPS provides a clearer picture in less time, thus exponentially increasing trust in the decision making process. While looking over a large Area-of Interest (AOI), operators can zoom into multiple Regions of Interest (ROI) simultaneously and understand the connection between them. This is achieved without neglecting the rest of the area, which is still being recorded and constantly analyzed.
At the heart of the system is an airborne segment consisting of the EO sensor unit, an advanced image processing unit, a large mass storage unit and analysis applications.
Via an embedded data link, the relevant information is transmitted from the aircraft to the SkEye, Control and Management Center (SCMC) (fixed or mobile), which can be integrated with the customer's Command & Control (C2) solution.
SkEye WAPS features a fully-programmable alerting system that allows commanders to be notified of specific/unusual events through a customized alert mechanism. These capabilities complement and enhance SkEye WAPS' unparalleled persistent surveillance functions, providing operators with an exceptional solution for locating and monitoring different situations.
The solution is already operating in various countries globally, contributing to defense and HLS missions, and is installed on various types of unmanned aircraft vehicles and light aircraft.
Bezhalel (Butzi) Machlis, Elbit Systems' President & CEO said: "Elbit Systems' SkeEye WAPS system is a game changer in homeland security missions, enabling forces to analyze and retrace the steps of terrorists and criminals in an extremely large area, providing them with timely and valuable data in life threatening situations. In light of recent threats worldwide and particularly in Europe, SkEye WAPS provides meaningful leverage to security organizations in intelligence gathering mission and countering terrorist threats."