EDISON, NJ  June 12th, 2013 - HORIBA Scientific (HORIBA), the global leader in fluorescence spectroscopy systems, announced today that their Aqualog®, the only simultaneous absorbance and fluorescence system that measures CDOM (colored dissolved organic matter) in water 100 times faster than previous fluorescence methods, now offers both lower absorbance and fluorescence excitation wavelengths down to 200 nm, and extended emission coverage up to 800 nm.  To support the new ozone-producing lamp, HORIBA added a deozonating scrubbing filter.
In addition we have added Sample Queue software for automatic, continuous data collection of EEMS for up to 1000 samples without interruption. The software is compatible with multi-position sample changers and flow-through cells. 
An enhanced Solo software package from Eigenvector Inc. enables rapid import to multivariate modelling and provides rapid, automated generation of component identification and quantification tables.   The Solo Parallel Factor Analysis (PARAFAC) has been upgraded with split-half validation analysis and an improved Rayleigh and Raman scattering masking toolkit.
"Aqualog was developed to allow real-time monitoring of constituents in water such as contaminants or disinfection byproducts, and provides critical monitoring and regulatory compliance for water quality," said Ishai Nir, Director of Fluorescence for HORIBA Scientific.  "The expanded spectral range enables measuring even lower concentrations of organics plus chlorophyll levels. Meanwhile our new Sample Queue software allows the full analysis power of the Aqualog to be continuously applied for up to 1000 measurements"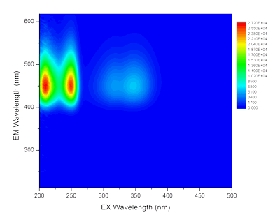 For more information on HORIBA Scientific's Aqualog, please go to www.aqualog.com.

About HORIBA Scientific
HORIBA Scientific, part of HORIBA Instruments, Inc., headquartered in the United States, provides an extensive array of instruments and solutions for applications across a broad range of scientific R&D and QC measurements. HORIBA Scientific is a world leader in elemental analysis, fluorescence, forensics, GDS, ICP, particle characterization, Raman, spectroscopic ellipsometry, sulphur-in-oil, water quality and XRF.   Our instruments are found in universities and industries around the world. Proven quality and trusted performance have established widespread confidence in the HORIBA Brand.

The HORIBA Group of worldwide companies, part of HORIBA, Ltd. headquartered in Kyoto, Japan, provides an extensive array of instruments and systems for applications ranging from automotive R&D, process and environmental monitoring, in-vitro medical diagnostics, semiconductor manufacturing and metrology, to a broad range of scientific R&D and QC measurements.