COPENHAGEN – 21 August, 2014 – At Vision 2014 in Stuttgart, the JAI Group introduces a new industrial camera family under the name "Go Series". The new Go Series are small, fast and versatile entry-level area scan cameras. Also, JAI will launch new monochrome line scan cameras in their new Sweep Series featuring cameras with fast scan rates and extra-large sensor pixels.
The new JAI Go Series:
The new camera models in the Go Series - named GO-5000 - are built around a 5-megapixel CMOS imager and feature a small form factor (29 mm x 29 mm x 41.5 mm) and a weight of only 46 grams – making them among the smallest and lightest entry-level cameras available at this resolution.
The cameras are available with either a Power over Mini Camera Link interface, USB3 Vision interface or Power over GigE Vision interface.
Despite their small stature they are versatile in their feature-set. The GO-5000 cameras deliver full 5-megapixel output (2560 x 2048 pixels) at up to 107 frames per second in the Power-over-Mini-Camera-Link model.

The cameras' combination of 5 micron square pixels and versatile ROI capabilities enable them to be easily configured to meet a wide range of customer requirements for resolution, speed, and optical formats. They can provide high-speed 1080p HD video and can also operate as a VGA camera (640 x 480 pixels) at a frame rate of nearly 450 fps, depending on the interface. Other features include Auto Level Control, and a combination of analog and digital gain controls to reduce the amount of quantized noise in low-light images compared to conventional CMOS cameras offering digital gain functions alone.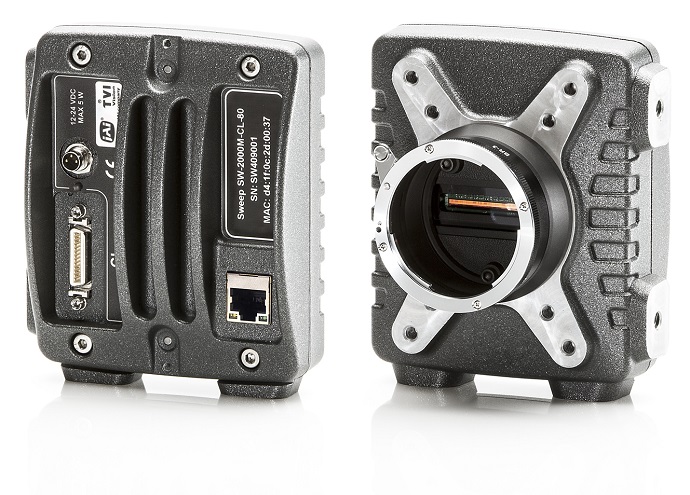 Sweep Series, SW-2000M-CL-80
The new JAI Sweep Series:
Sweep is a new JAI series of industrial monochrome line scan cameras that combine high scan rates with extra-large high sensitivity pixels requiring less scene light than conventional line scan cameras to produce quality images. The first model in the new Sweep Series, SW-2000M-CL-80, features 2048 pixel resolution, 20 µm x 20 µm large pixels, and delivers scan rates up to 80,000 lines/second.

With a 400 µm² photon collection area and a large quantum well capacity, these new line scan cameras provide an excellent signal/noise ratio, maximizing the image quality even in line scan applications where providing enough scene light is difficult due to the physical constraints or limitations in light budget.
The high sensitivity pixels make the Sweep SW-2000M capable of capturing an acceptable exposure at 4 times the speed of a camera with only 10-micron pixels, providing system integrators an opportunity to scale down their investment in expensive lighting solutions.