22.10.2014

EyeVision 3.0 now supports cameras of the KP-FXXXgv series by Hitachi. This series offers a high-resolution miniature CCD cameras with GigE Vision. Together, the camera and the software allow for solutions of various machine vision applications.
The Hitachi camera is a miniature (44 x 29 x 72 mm) CCD camera with a GigE interface. The high resolution camera offers multiple features such as electronic shutter (10s up to 1/100000s), one trigger, fix trigger, partial scan, binning, as well as a frame rate of up to 90/s.
The applications can be surveillance as well as measurement technology and medical applications. Especially the miniature cameras of this Hitachi series and EyeVision 3.0 are suitable for medical engineering and microscopy.
The EyeVision 3.0 software offers the well-known drag-and-drop programming. But also new filter commands for arithmetic and binary.
Furthermore there are new commands for the measurement technology. EVT developed a new calliper command which is more flexible and accurate.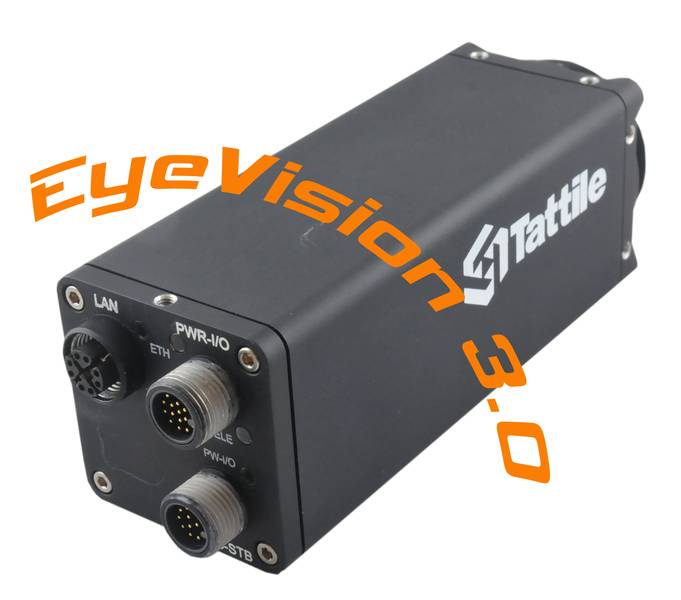 EyeVision 3.0 supports Tattile Smart Camera
The EyeVision 3.0 version of the machine vision software by EVT now also supports Smart Cameras by Tattile. With this combination various applications can be solved.
The S200 Tattile Smart Camera for example is equipped with a Dual Core processor, FPGA of 85K and a 4.2 MegaPixel CMOS sensor. Together with the EyeVision 3.0 software it is possible to capture extremely small objects in highspeed. Thanks to the FPGA this is also possible within real time. Additionally the FPGAs are programmable with graphic tools.
EyeVision 3.0 offers a graphical user interface (GUI), which, thanks to the Layout Manager, can be configured by the user. It is also possible to integrate custom made commands into the GUI.
More information at: