New ceramic laser phosphor converters from SCHOTT are accelerating the adoption of laser phosphor-based digital projectors by enabling high luminance light sources. SCHOTT now introduces two ceramic phosphor converters that support the development of brighter digital projection at Photonics West 2018 (hall B, booth 1207).
San Francisco, USA – January 29, 2018 – By 2020, one-third of all projectors will use laser diodes or LEDs instead of quickly aging conventional lamps. This so-called solid state lighting (SSL) enables higher brightness, a superior image quality, and very good reliability in digital projectors. Thus, SSL has the ability to take high-quality, cost-effective digital projection to the classroom, the board room, the home theater, and the cinema.

Far brighter than the sun
After years of research, SCHOTT experts have developed two inorganic ceramic phosphor materials that are extremely temperature-stable, heat-conductive, and energy-efficient.

The phosphor materials are green and yellow fluorescent ceramics that convert blue laser light into yellow light. The yellow light is then segmented by color filters to generate the primary colors (red, green, and blue) for digital projectors.

By offering both green and yellow ceramic converters, SCHOTT is addressing the needs of most digital projectors using DLP (Digital Light Processing), LCD (Liquid-Crystal Display), or LCOS (Liquid Crystal on Silicon) technologies.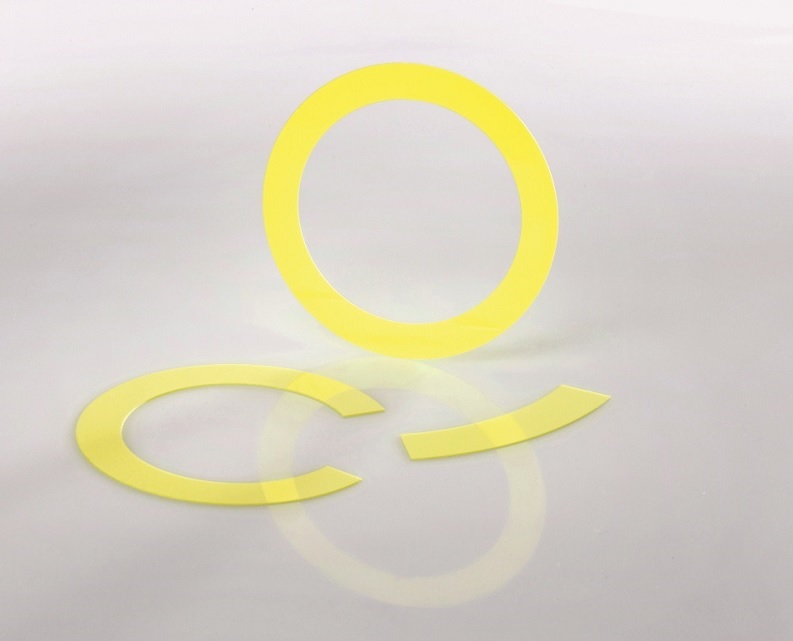 The new ceramic phosphor converters provide superior performance with an outstanding reliability that guarantees long-lasting laser light sources.

Credits: SCHOTT

The new ceramic phosphor converters provide superior performance with an outstanding reliability that enables long-lasting laser light sources. This means that there is no need to change lamp bulbs, which significantly lowers the total cost of ownership and energy costs. Technicians and product developers in the projector industry can find the detailed product flyer on the SCHOTT Advanced Optics website.

"SCHOTT is one of the technology leaders in this field and has already started to serve the top producers of professional-grade digital projectors used in movie theaters and at major events," said Philippe Younès, Director of Business Development at SCHOTT Advanced Optics. "With the market launch of two solutions that are available in mass production, we want to grow our global sales and enter new markets and applications quickly. We want to brighten up the world with our technology."

"Made in Germany," processed in Malaysia
SCHOTT pre-produces the ceramic phosphor converter material in Germany and finishes the material at its Penang plant in Malaysia. This value chain connects the outstanding production excellence of "German Engineering" with highly competent processing expertise, and short distances to markets like Japan, China, and Taiwan where the newest digital projectors are developed and produced.

Discover this innovation at Photonics West
Visit SCHOTT at booth 1207 in hall B at Photonics West 2018. Alongside the new ceramic laser phosphor converters for digital projectors, SCHOTT will also display other innovations, such as ultra-thin structured glass wafers.