19/10/2016

A team of the University of Barcelona has developed a technology based on LEDs which allow regulating the emission spectrum of light in order to create diverse atmospheres, from morning daylight to sunsets, and monochromatic light with high quality standards.
"The system, called FLEXILIGHT-UB, can reproduce any spectrum in an accurate way in the visible rank thanks to the programing of microcontrollers that interact with the set of sensors of this device", says Blas Garrido, Professor at the Department of Engineering of the University of Barcelona and leader of the project. All the LED system and the sensors are integrated to the lamp and depending on the program or what the sensor reads, the lightening system can act to lower the energy consumption, to measure the system or control the light parameters through a central unit that can be controlled with a phone app.
One of the most highlighted elements of this technology is the high quality standard of the system. Therefore, the color temperature, a variable that shows light's warmth, can continuously change between 2.500 and 7.500 kelvins (the Sun is approximately at 6.500 kelvins). In addition, the system offers a color rendering index (CRI) above 95%. This factor measures the reliability of the light from the bulb to produce the colors of the light -compared to natural light.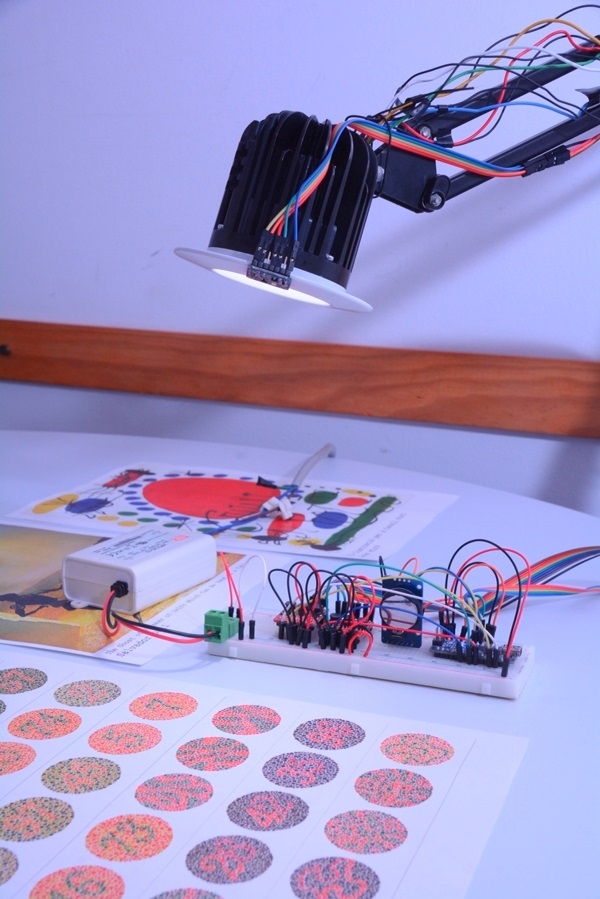 The system, called FLEXILIGHT-UB, can reproduce any spectrum in an accurate way in the visible rank.
"Thousands of LED combinations have been assessed with mathematic and experimental models to find the most suitable one with high quality specifications" says Adrià Huguet, researcher of the same team of the University of Barcelona. The result is a light with changing channels made up by five LEDs: red, green, blue, white and light blue.
Applications on chronobiology
Throughout the evolution, the human eye has undergone an adaptation process: the light we get makes us react in a certain way, producing hormones of different types depending on the light we receive. Therefore the morning light makes us more active and the light at sunset relaxes our body. "This highly adapting platform –says Blas Garrido- allows reproducing circadian rhythms in a very authentic way with applications on chronobiology to reproduce the day light evolution throughout the day in places such as schools or hospitals" says Blas Garrido.
This system of variable spectrum light can add different kinds of sensors, presence-related or timer-related -so it can be programmed depending on the different needs. Some of the applications of this technology that stand out are the integration of light to its environment (for museums, architecture, decoration), or the adaptation of warning or pausing circadian rhythms, or phototherapy applied to dermatology or mental health.