28 April 2014

Machine vision is teamwork. The team members include not only the camera, lens and lighting, but also a high-performance computing unit, which can process and evaluate the image data very quickly. High-quality results are only achieved if each team member is strong - and strong partners, who have proved themselves here, are the robust Industrial PCs (IPC). "The IPC is an important topic at the leading international trade fair VISION", states Florian Niethammer, Project Manager of VISION at Messe Stuttgart, "however, to date the IPC manufacturers were under-represented. We want to change this with the special stand "IPC 4 VISION". The special stand will be set up for the first time and is an attractive presentation platform, which is positioned exclusively in the entrance area of Hall 1 where it can't be missed!"
As the leading world trade fair for machine vision, VISION 2014 will take place for the 26th time from 4 to 6 November on the Stuttgart trade fair grounds. Of the approximately 400 expected exhibitors of components such as cameras, framegrabbers, lighting systems, optics, software, accessories, complete solutions and concrete machine vision applications, IPC manufacturers are now also in the limelight and will showcase their latest innovations. Some of these IPC manufacturers are taking part in the trade fair for the first time! "Eleven exhibitors registered straight away in order to benefit from the attractive complete offer. All places are now booked out, but we are currently checking whether we can extend the stand concept", states Niethammer with delight.
IPC special stand experiences warm reception
For example, Advantech is celebrating its première at VISION 2014: "As machine vision is increasingly being used for automation and connectivity", explains Martin Skiba, from Marketing Industrial Automation at Advantech Europe, "there are countless fields of application for our systems. In order to exhaust this potential, we decided to take part in VISION this year for the first time. An important reason for us is also the contact with potential resellers for our IPC product range." "VISION is very interesting for us as a trade fair and lead generator", states Christian Neumeyr, President, PLUG-IN Electronic. Other well-known companies such as Beckhoff Automation, Bressner Technology, ICP, Kontron, Mikrotron Mikrocomputer, Neousys Technology, Siemens, Spectra and Vecow are also on board.
Managing day-to-day industrial operation
A normal computer in the consumer industry is not the most appropriate tool for processing image data. Tatjana Luft, Marketing Manager at PC-based Automation at Siemens explains why: "Machine vision components are constantly exposed to industrial interferences, such as electromagnetic interferences, shock and vibrations during continuous operation due to their close proximity to machines. In order to ensure smooth operation during production, IPCs which are designed for the industrial environment should be used. High-powered machine vision also requires IPCs with high performance, which for example our high-end IPCs possess with the fourth generation of Intel Core i7 and Xeon processors."
According to Advantech expert Skiba, energy efficiency also play an important role. He reasons: "The selection of the appropriate CPU, as well as a corresponding power supply unit, is an important criterion."
IPCs and box PCs are considered particularly robust, precise and reliable computing systems in a compact design. "They are characterised by their high performance with a low spatial and power requirement, easy maintenance and expandability, as well as flexible installation positions and assembly options", explains Neumeyr. According to the CEO of PLUG-IN Electronic, an important factor is also the use in an extended temperature range, which is a major advantage especially in day-to-day industrial operation.
Julia Mindermann, Marketing and Communication Manager at Mikrotron, draws attention to the fact that applications are very individual: "The system must support the data flow across as many camera interfaces as possible such as CoaxPress, Camera Link, GigE Vision or USB, and at the same time be synchronised with other components and primarily the process itself. In addition, the resolution for cameras is increasing, and there is also a parallel increase in the cycle times and the complexity of the evaluation algorithms with simultaneous cost sensitivity. This demands a vision to scale the system already from the planning phase."
It thus requires a great deal of experience to select the appropriate system for the respective application. But the experts at VISION 2014 are on hand to share their expertise and know-how and provide advice. Four exhibitors explain here where their systems are used and what special features they have.
Synchronisation made easy
With the AIIS-1240 and AIIS-1440 Advantech has two new compact controllers with Power-over-Ethernet (PoE) function or USB3 camera controller, which are real mathematical wizards thanks to the Intel Core i7i5/i3 CPU. The Intel i210 LAN controller is equipped with the IEEE 1588 Precision Time Protocol (PTP) in the AIIS-1240. PTP allows the synchronisation of the clocks of the devices connected in the network. When used in visual inspections synchronisation settings of two or more PoE cameras are possible. The systems are used, for example, in the production of printed circuit boards, traffic surveillance, traffic-control systems and for toll systems.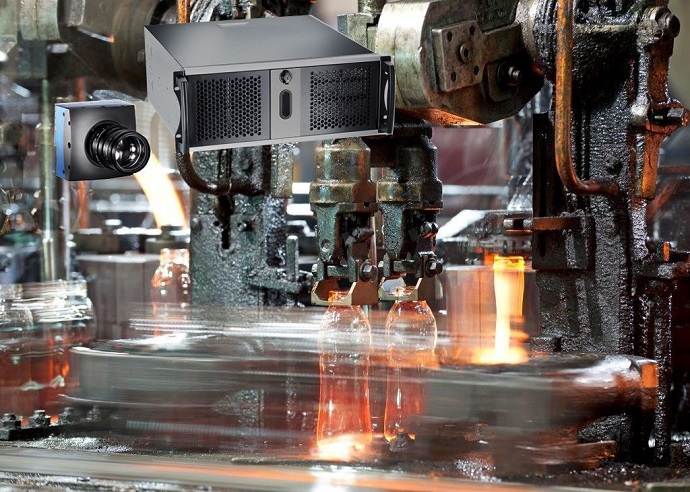 As a complete system provider, Mikrotron provides high-performance, preinstalled and certified machine vision computers according to customer requirements, which endure day-to-day industry operation. (Image: Mikrotron)
Ample experience in machine vision
Mikrotron looks back on 35 years of experience in machine vision. "As a manufacturer of high-speed camera systems we are familiar with the pitfalls of high-powered systems", states Julia Mindermann. As a complete system provider, the company provides high-performance, preinstalled and certified machine vision processors according to customer requirements. 
Detect and sort 1,000 letters per minute
The model range of the bluePICE-7800 computer systems was developed at PLUG-IN Electronic for graphically intensive applications in industry. Important features of these systems include the four PoE ports as well as the interruptible digital I/Os. The embedded systems can be extended at any time via mini PCI slots with framegrabbers or other modules. A current application is the optical detection in letter and package sorting systems with which very quick processing is achieved. The system sorts and scans up to 1,000 letters and packages in a minute. The IPC processor used is a closed system which operates without a fan so that the fine paper dust cannot penetrate the computer system. Via a wireless connection all necessary data of the system is constantly transmitted to the control centre of the post and mail centre and illegible addresses are sorted efficiently. The IPCs are also used for medical diagnosis, vehicle data acquisition, building surveillance technology and quality inspections.
Increase productivity and reduce maintenance costs
With the Simatic software controllers from Siemens machine vision tasks and machine control can run parallel on the one device independent of each other. Aptar Pharma also chose this solution for a production machine in the pharmaceutical industry. With the combination of two applications in one device, machine vision can communicate directly with the internal machine control system without any detours via data conversion and external interfaces, which would otherwise cause a bottleneck. "The production capacity could thus be increased and due to the lower number of components the costs for maintenance and spare parts supply could also be lowered", explains Siemens expert Tatjana Luft.
Future with a view towards Industry 4.0
Machine vision systems have been in use for many years. Hence a really important issue is the long-term availability of Industrial PCs. The manufacturers meet this requirement. For the future the experts see an even higher performance requirement, irrespective of the housing design. "The desire for so-called box or panel PCs is increasing, which opens up new possibilities for the user", states the Mikrotron expert.  And due to the increasing energy costs, as well as stricter environmental regulations, the Advantech expert Skiba reckons the importance of energy efficiency will gain significance: "Connectivity and versatile intelligence are tasks we are faced with in the implementation of the concepts surrounding Industry 4.0, Internet of Things and Cloud Computing." According to PLUG-IN- Electronic CEO Neumeyr, one of the possible challenges lies in 3D machine vision, which primarily affects the automotive industry, toolmaking and mouldmaking, as well as medical technology: "At the moment there are already solutions available. However, we see even more development potential here."
In the industrial application areas Siemens expert Luft sees two challenges: "On the one hand, it is about optimising the availability of machine vision in the system through robust PC hardware and long-term availability of spare parts. On the other hand, further challenges lie in the combination and integration of machine vision software applications with other industrial applications such as control software, which consider an integrated security concept for the operation systems."
VISION 2014 important for all industries
Machine vision has proved itself many times in practice and makes processes more efficient. Visitors from diverse industries, be it from the automotive and components supply industry, mechanical engineering, precision engineering, optics, electrical engineering and electronics industry, semiconductor production, printing industry, glass processing, wood industry, pharmaceutical industry, chemicals and food industry, medical industry, traffic, security, agriculture, as well as advertising and sports, have the opportunity in autumn at VISION 2014 to obtain comprehensive information. With the comprehensive framework programme, opportunities for further training are also provided at the unique exhibition and information platform for machine vision.