KEENE, NH, May 13, 2013 – Precitech, a global manufacturer of innovative ultra precision machining solutions, has introduced the Nanoform® X Multi-Axis Ultra Precision Machining System.
The Nanoform X is designed to increase productivity and ease of use in the diamond turning, milling, and grinding of optical lenses, mold inserts, mirrors, and precision mechanical components. The machine can be configured from two to four axes to produce spherical, aspherical, and freeform surfaces of up to 440mm in diameter.
"We listened to our customers and added a number of features that improve productivity and ease of use. The design challenge was to ensure that these new features would not impact the core accuracy of the machine," notes Jeff Roblee, Vice President of Technology for Precitech.
"With the Nanoform X, we were able to improve machine performance, particularly its vibration and temperature sensitivity. We enlisted the assistance of TMC, a world leader in precision vibration control, to help with the design of the vibration isolation system. Both Precitech and TMC are business units of AMETEK Ultra Precision Technologies."
Nanoform X incorporates features that reduce machine downtime by minimizing the time required to perform non-value-added activities, such as machine and tool setup, maintenance, and cleanup. The most significant of these design changes were put in place to reduce cleanup time and better contain swarf (the waste and debris that results from metalworking operations).
Among the most obvious design improvements is a fully opening upper enclosure. This feature provides the operator with unprecedented access to the inner surfaces of the machine. In addition, the sloped sides on the upper enclosure and the stainless steel tray over the machine's granite base contribute significantly to improved swarf containment and reduced cleanup time.
Other non-value added activities that are greatly reduced with the Nanoform X are machine and tool setup times. These are reduced with Precitech's new productivity tools and the high-speed HS-150 Work Holding Spindle, which are both standard features on the X.
Precitech also lowered the work envelope by 11 cm (4 in.) and further improved operator ease of use by enhancing the Nanoform X's control console. The ergonomic control console, in particular, offers a number of user-friendly features, including a jog wheel and standard directional control of the axes, programmable soft keys, and convenient shelving for storing many of the tools required for ultra precision machining.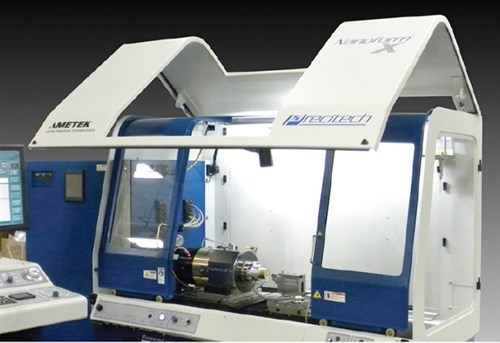 Precitech is a global manufacturer of innovative ultra precision machining solutions. It designs and manufactures precision machining systems for turning, milling, and grinding. These systems produce rotationally symmetric, asymmetric, freeform and sculpted geometries, achieving form tolerances in the sub-micron range and nanometer surface finishes when equipped with diamond tooling.
Precitech is a unit of AMETEK Ultra Precision Technologies, a division of AMETEK, Inc, a leading global manufacturer of electronic instruments and electromechanical devices, with annual sales of more than $3.3 billion. For more information on Precitech's line of ultra precision machining systems, visit: www.precitech.com