June 24, 2013

By Menachem Glik

Israel is a small country, yet it could consider as a powerful country in the fields of Photonics, Lasers, Bio - Medical, Medical engineering, Machine-vision, Fiber optics, and Solar energy. Not just Waze (the Israeli startup which recently been sold to google) but also lot of start-up companies which develop the next big thing in the photonics, lasers, medical engineering and solar energy industry.
In this article I'll cover the local Photonics, Lasers, Bio-Medical, Medical engineering, Machine-vision, Fiber optics and Solar energy companies in Israel.

Miniature projectors for portable and touch pannels
Since usually when mention Electro-optics and lasers it perceived with the Industrial or the Military market, I'd like to open with the consuming electronics apllications of electro-optics and lasers. Photonics and lasers devices however, can be found in lot of consuming electronics and gadgets which all of us use on a daily basis.
In the last few months all the technology magazines talked about the new big thing from google - the google glass. I still remember however, in the end of 2012 when it was still just a rumor few articles which claims that it's just a PR trick and that the technology still not even exist to create and manufacture these glasses. For me however, it was clear that these glasses are a reality because I knew that the technology exist and work.
I knew about the technology which Lumus developed in Rehovot / Israel.
Lumus was founded in 2000 by Dr. Yaakov Amitai, in Rehovot / Israel.
Lumus, whose disruptive and patented LOE technology is the basis for the Company's core technology and business. The LOE is an ultra-thin, see-through lens that displays large, high quality images and enables the design of eyeglasses with a completely natural look. The LOE shatters the perceived laws of physics that have prevented personal displays from being compact, lightweight, translucent, normal looking and inexpensive, and offers a window of opportunity to an extensive range of exciting applications.
 Using this cutting-edge LOE technology, Lumus is providing a new dimension for the human visual experience. Enriching human vision with completely natural-looking, see-through eyewear, Lumus is generating a paradigm shift in display technology, changing behavior patterns and establishing new horizons in the world of displays. Headed by a team of visionary leaders and pioneers in the world of optics and personal displays, Lumus is creating a new way of living, working, communicating and enjoying movies, TV and video games.
To learn more about Lumus please visit:
Lumio was initially well known for developing and licensing the 1st virtual laser keyboard (The VKB). Introduced first as a prototype at CeBIT in 2002, the product was launched in late 2004 with Bluetooth and was voted "Best Innovation" 2007 at the Consumer Electronics Show (CES). Lumio then turned its' focus to optical touch screen products, developing an extensive patent and IP portfolio.
Since 2008, Lumio has been successfully delivering optical multi-touch screen products.
Lumio's extensive patent portfolio and designs are being utilized in various applications such as automotive, white goods, consumer electronics, industrial automation and touch screen applications.
Crystal Touch® and Crystal Touch Multi® belong to Lumio's family of high resolution, high brightness, optical touch screen systems that transform any flat surface into an interactive surface.
Lumio's Crystal Touch™ screens all come with their 'plug and play' Dual Control functionality and their unique patented NO CALIBRATION capability. These additional features include a number of pre-defined dual touch finger motions such as rotating images, zooming in and out etc.), add-ing functionality and enhancing the user experience.
To learn more about Lumio please visit:
And there's also PrimeSense which famous for it Kinect technology.
PrimeSense technology is giving devices a 3D view of the world, creating a synchronized depth image, so they can see, understand and interact with their environment.
Founded in 2005 by Aviad Maizels, Alexander Shpunt, Ophir Sharon, Tamir Berliner and Dima Rais, PrimeSense is paving the way in the area of sensory inputs for a wide range of industries and markets. As a fabless semiconductor company, PrimeSense patented technological breakthroughs have made the company the leading B2B provider of low-cost, high-performance 3D sensing and machine vision technologies.
PrimeSense technology is already powering more than 20 million devices around the world.
To learn more about PrimeSense please visit:
Medical Lasers: From cosmetics to the dentist
Electro-optics and Medical are two fields which combine each other. You can find lasers and Imaging devices im almost every field in medical. From hospital, to the dentist clinic, following also by your cosmetician - you'll find devices which make use in lasers, imaging anf photonics principles.
and Israel is a leading powerful country also in this field.
iTreo company which started as Cadent in Or - Yehuda / Israel has developed a technology which enables the doctor to take a 3D digital scan of the patient's teeth and bite, make adjustments in real time, and transmit the file wirelessly for processing.
To learn more about iTreo please visit:
Another Israeli company which develops similiar technology is densys3D from Migdal - Haemek / Israel which is a pioneer in the development of intra-oral Dental systems for use in the dental market. 
densys3D's innovative scanning solution utilizes advanced dental imaging technology that allows dentists to digitally scan and create highly accurate 3D maps of teeth, without using putty-like materials. Current crown and bridge production processes rely on expensive and cumbersome impression materials. densys3D's technology eliminates the need for such materials.  The Company technology is differentiated by quick image capture capabilities, fast processing time, high accuracy, ergonomic design and the small email-friendly file size of the 3D map.
Densys3D's MIA3d™ Intra-oral scanning system is targeted at the Dental market and Dentists seeking automated production of crowns, bridges, implants and prostheses as well as Orthodontists seeking enhanced treatment tools.
To learn more about densys3D please visit:
In the aesthetic field Israel is a global leader. Companies like Lumenis, Alma, Syneron and sharpLight are well known all over the world.
Alma Lasers is the global leader in the development of medical and aesthetic equipment. With a focus on innovation and improving treatment results, Alma partner with tens of thousands of clinics and hospitals.
Alma Lasers located in Caesarea / Israel.
To learn more about Alma Lasers visit:
In Yokneam which located in the beautiful Galilee there is a big industry area with lot of Electro - Optics companies.
Lumenis is a global leader in medical and aesthetic lasers and light-based technology. The name Lumenis means "Light of Life" in Latin, highlighting the importance of the light that forms the basis of our technologies used to enhance life.
To learn more about  Lumenis please visit:
SharpLight Technologies is a leading innovator of advanced, non-invasive systems for the medical aesthetic and cosmetic industries. The product lines are designed to produce optimized results for a range of applications, from facial skin treatment and hair reduction to the treatment of vascular and pigmented lesions, and inflammatory acne.
SharpLight is associated with the American Laser Clinics (AML) group, a medical services provider with one of the first private chains of aesthetic medical centers in the world.
SharpLight is located in Rishon Le Zion / Israel.
To learn more about SharpLight please visit:
Lighting the night
The HLS (Homeland Security), Defense & Military, and Security is one of the fields which perhaps the most identified within the electro-optics and lasers industry around the world. And also in this field Israel is a giant. From Elbit, IAI (Israel Air Industry), and Rafael which well known all over the world to smaller companies which unitl now you might wasn't familiar with, so let me introduce you.
Not just aesthetic lasers companies are located in Yokneam, but also a leading Defense & Security companies.
Senso Optics is a leader in the design, development and production of innovative thermal imaging technologies and advanced electro-optical solutions for military, paramilitary and security markets both in Israel and around the world.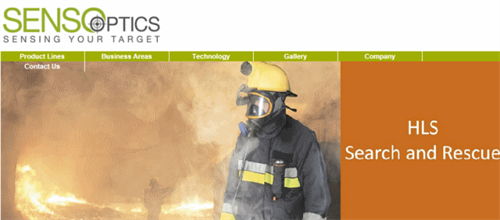 Building on its expertise in superior targeting and visual information systems, for both day and night missions, Senso Optics offers a wide range of multi-sensor sights, fire control systems, hand held and vehicle mounted thermal imaging cameras, thermal upgrade kits, and CCD cameras. In addition, Senso creates and supplies innovative border and strategic infrastructure monitoring solutions and thermal vision helmets for fire fighters and search & rescue units, as well as, thermal engines and a wide range of thermal lenses.
Among their products you can find the Bore Sights, the CCD Cameras, Fire Control Systems, Thermal Cameras, and IR Lenses
The company invests extensively in R&D and in advancing product maturity, while maintaining strict QA and environmental policies. 
To learn more about Senso - Optics please visit:
Follow Senso Optics on Facebook at facebook.com/SensoOptics, Twitter @SensoOptics
Northern to Yokneam in one of the northern cities in Israel - Carmiel you can find Opgal.
Opgal is a leading manufacturer of advanced vision and surveillance solutions. Using state-of-the-art thermal and active-imaging technologies, Opgal leverages advanced electro-optics and image processing expertise to create high- performance, versatile visualization hardware and software product solutions for the Defense, Security, Industrial, and Aviation markets.
To learn more about Opgal please visit:
From the north to the south - in Kiryat Gat which locate in the south of Israel you can find Thermal Beacon. Thermal Beacon Ltd. is a leading company developing and producing  high-end innovative thermal IFF (Identification Friend or Foe)  emitters and high power visible and infrared laser illuminators  and pointers.
 The company products are being based on state of the art, patented  technologies and combines high performance with extremely  compact design.
To learn more about Thermal Beacon please visit:
 Xsight Systems Ltd. from Rosh Haayin / Israel is a leading technology company specializing in electro-optical and radar sensing technologies, and was established to develop and commercialize advanced sensor systems for airports and for transportation, security and safety applications.
Xsight's flagship product is FODetect®, an innovative system for continuously monitoring civil and military airport travel surfaces (runways and taxiways) and detecting Foreign Object Debris (FOD). Direct damage to aircraft caused by FOD is estimated to cost the aviation industry over $4 billion each year. To date, visual runway inspection a few times each day and regular sweeping has served as the standard means of minimizing FOD damage.
In developing FODetect and future solutions, Xsight's overall goal is to enhance passenger safety, prevent damage to aircrafts and equipment, and in the process, increase airport capacity by contributing to more efficient and safer airport operations.
To leran more about Xsight Systems Ltd. please visit:
In Tel - Aviv you can find Visionmap.
VisionMap LTD. is a leading provider of state-of-the-art digital automatic aerial survey and mapping systems.
VisionMap's unique technology created innovative data acquisition and data processing system which optimizes mapping work and sets a new standard for productivity in the geospatial data industry.
To learn more about Visionmap please visit:
Back to the North again, this time to Or - Akiva (near Caesarea) located Meprolight.
Meprolight is an International Electro-Optics company, developing, manufacturing and marketing systems for infantry, armed forces, law enforcement agencies and civilian markets since 1990.
Meprolight provides comprehensive solutions with a wide array of combat-proven products; Electro-optical and optical sights and devices, night vision devices, thermal sights,  laser rangefinders, hand held rangefinders and fire Control systems and other tritium illuminated products and accessories for safety and security applications.
To learn more about Visionmap please visit:
GreenVision Systems is in the field of Hyper-Spectral Imaging technology and systems enable monitoring, detection and tracking of particulate matter, biochemical agents and targets .GVS' comprehensive product suite provides unique solutions for environmental monitoring, remote sensing and homeland security markets.
To learn more about GreenVision Systemsplease visit:
http://www.greenvs.com
From Soda cans inspections to processor inspection 
Last time when you just stopped by to get a soda can - have you ever wounder who make sure that the soda can is indeed sealed? The soft drinks industry produce millions of soda cans every day - you don't really expect that somene will inspect each can to make sure it's sealed well. Not just the sealing, also the label on each can - to make sure that the colors correct and that there are no mistakes.  It becomes much more complicated in the electronics and computing industry - who check each processor or just a Flat Panel Display? You know what - let's talk about something else - the Jeans that you wear right now - who check the fabric before it's turn into the pair of pants? Someone has to make sure that there are no defect on the fabric, or that the color is unique. All this missions and much more are done automatically with machine-vision by sophisticated cameras with much moresophisticated software behind. And also in this field Israel have a lot to offer.
Quality By Vision which located in Yokneam (remember? the north ..) is a global leader in the development and manufacturing of Quality and Process Control systems for the canning industry and its suppliers. 
Providing quality control systems since 1973 (originally as INDEL Electronics), Quality By Vision focuses on Quality Control systems for the canning industry and its suppliers. Quality By Vision were the first to introduce a fully automatic double seam inspection system, back in 1993.
To learn more about Quality By Vision please visit:
Advanced Vision Technology (AVT) is the leading developer and manufacturer of automatic inspection systems for web applications in the packaging, labels, folding cartons and commercial printing sectors. Together, AVT systems and those of its subsidiary Graphic Microsystems, Inc. (GMI) have almost 6000 installations worldwide.
Packaging A series of automated solutions for the Packaging sector, based on the PrintVision/Jupiter process control platform, which automatically detects defects in various types of printing processes. The range of options include barcode verification, color measurement, and press control.
Labels PrintVision/Helios II is an automatic 100% inspection system for quality assurance and process control workflow, providing a range of solutions and options including inspecting reflective material, clear substrates and barcode verification.
Commercial MicroColor/Mercury is AVT's solution for remote ink control for Offset presses. ColorQuick/Clarios is the most advanced on-line color measurement and control system in the world, employing a full spectrophotometer to perform accurate absolute color measurement, ensuring consistent and reliable print over long and short runs.
To learn more about AVT please visit:
For over 30 years, Orbotech designs, develops, manufactures, markets and services automated optical inspection (AOI) systems for bare PCBs, FPDs, and imaging solutions for PCB production.
Orbotech's innovative AOI, imaging and computer-aided manufacturing (CAM and Engineering) technologies enable electronic manufacturers to achieve the increased yields and throughput essential for retaining their leading positions at the forefront of electronics production.
Orbotech is located in Yavne / Israel

To learn more about Orbotech visit:
http://www.orbotech.com
Applied Materials is the global leader in providing manufacturing solutions for the semiconductor, flat panel display and solar photovoltaic industries.
Applied Materials has a facility in Rehovot / Israel
To learn more about Applied Materials please visit:
http://www.appliedmaterials.com
KLA-Tencor was formed in April 1997 through the merger of KLA Instruments (KLA) and Tencor Instruments (Tencor), two long-time leaders in the semiconductor equipment industry. Prior to the merger, both businesses served a segment of the inspection and metrology area; with KLA focused on defect inspection solutions and Tencor placing its emphasis on metrology solutions. Merging together in a one-to-one stock swap valued at $1.3 billion, KLA-Tencor became the most important process control player in the industry, bringing to market a complete line of yield management products and services from a single company.
KLA's R&D center are located in Migdal Haemek in Israel:
Camtek provides automated solutions dedicated for enhancing production processes and yield in two industries: Semiconductor Fabrication and Packaging, Printed Circuit Board (PCB) and IC Substrates.
Camtek addresses the specific needs of these interconnected industries with dedicated solutions based on an advanced platform of technologies including intelligent imaging, image processing, sample preparation and digital material deposition. Camtek's solutions range from micro-to-nano by applying its technologies to the industry-specific requirements.
Camtek Headquaters are in Ramat Gavriel Ind. Zone, Migdal Ha'emek, Israel
Elbit Vision Systems Ltd. (EVS), is a global leader in the field of Automatic Optical Inspection (AOI), implemented in the production and quality control of fabrics and web, since 1992.
EVS innovative systems improve product quality and increase production efficiency in hundreds of installations worldwide. They operate a wide range of applications in the manufacturing of: textiles for the Automotive Industry, technical fabrics, apparel, home furnishing and non-woven materials, flooring, composite materials, coated fabrics, Denim, glass fabrics for printed circuit boards, plastic films, metal and more
EVS Headquarters are in Bareket 7, Industrial Park Caesarea, Israel 
http://www.evs.co.il


Companies list which appear in this article:
Lumus:
http://www.lumus-optical.com

Lumio:
http://www.lumio.com

PrimeSense:
http://www.primesense.com

Medical
iTreo
http://www.itero.com

densys3d:
http://densys3d.com/

Alma Lasers:
http://www.almalasers.com

Lumenis:
http://www.lumenis.com

SharpLight
http://www.sharplightech.com/

Defense
Senso Optics:
http://www.senso-optics.com/

Opgal:
http://www.opgal.com

Thermal Beacon
http://www.thermalbeacon.com

Xsight Systems:
http://www.xsightsys.com

VisionMap:
http://www.visionmap.com/

GreenVision Systems
http://www.greenvs.com

Machine-vision:
Quality By Vision
http://www.qbyv.com

AVT:
http://www.avt-inc.com

Orbotech:
http://www.orbotech.com

Applied Materials
http://www.appliedmaterials.com

KLA Tencor
http://www.kla-tencor.com

Camtek:
http://www.camtek.co.il

EVS:
http://www.evs.co.il